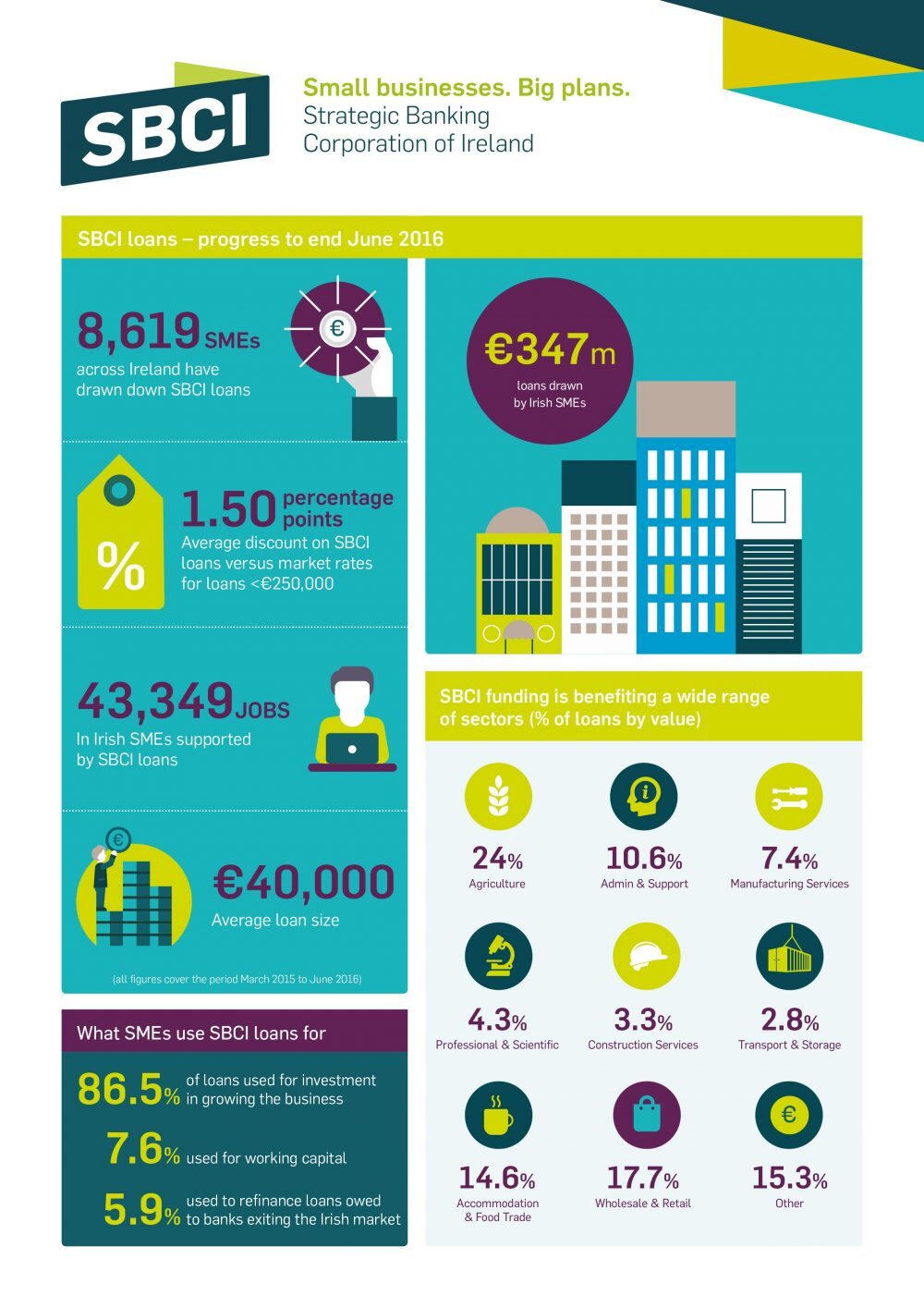 SBCI publishes first Annual Report & Accounts and provides mid-year 2016 update
SBCI has teamed up with 7 on-lenders to provide lower-cost SME finance
SMEs saving 1.5% on average market interest rates
SBCI delivering on mandate to drive competition and choice in the Irish SME lending market
21 July 2016: The Strategic Banking Corporation of Ireland (SBCI) today published its first Annual Report along with a midyear 2016 update, showing that the total value of loans drawn down has doubled from €172 million in January 2016 to €347 million by the end of June.
SBCI Chief Executive Nick Ashmore said:
"These figures demonstrate the breadth of the SBCI's impact and the appetite among Irish SMEs for lower-cost funding that is more flexible and SME orientated.
"It's great to be able to report that since the SBCI began lending to SMEs in March 2015, the pace of SBCI loan drawdowns has grown steadily as it has expanded its range of on-lending partners and product types. We are grateful for the commitment shown by our on-lenders to deliver these results for SMEs. In parallel we've seen a growth in new lending in the SME sector and a drop in interest rates for larger SME loans.
"The first year of operation was very focused on setting the foundations for driving choice and competition with five lenders on board by the end of 2015. In addition, a key focus has been growing awareness amongst SMEs of the availability of this lower cost finance.
"Our Annual Report today sets out the strategic direction for SBCI for the coming years, noting our role as a conduit for the effective use of EU SME supports relevant to Irish businesses and supporting a variety of types of finance."
The SBCI's midyear update shows good progress across key metrics including:
A doubling of the amount of loans drawn to date now totalling €347 million to 8,619 Irish SMEs
An 154% increase since end December 2015 in the number of jobs supported by SBCI lending activity, bringing the total to 43,349
An average loan size of €40,000 (from €37,000 in December 2015)
The largest loan was €5 million.
SMEs benefitted by an average of 1.5% versus market rates for loans of less than €250,000, while the agricultural sector continued to account for most of the value of loans (24%). The South West of Ireland showed the most SMEs using SBCI loans with over 18% of loan numbers by region, while Dublin accounted for 15.3%.
Minister for Finance Michael Noonan said:
"The SBCI is making substantial progress in establishing itself as a thought leader in how Ireland's businesses finance themselves. Its success demonstrates that those who create jobs in the domestic economy can do so with the help of a range of finance providers. The SBCI is also offering finance providers new ways of engaging with their customer base. Additionally, I welcome the broad regional spread of SBCI lending to SMEs with 85% of lending outside of Dublin."
With the recent addition of Bibby Financial Services Ireland the SBCI now has seven on-lending partners – three banks and four non-bank lenders:
AIB
Bank of Ireland
Ulster Bank
Finance Ireland
Merrion Fleet
First Citizen Finance
Bibby Financial Services Ireland
Further information on how and where to apply for funding and is available at sbci.gov.ie