European Rules and Regulations relevant to SBCI products
State Aid Rules
The SBCI currently sources its funds from the Ireland Strategic Investment Fund (ISIF) and the European Investment Bank (EIB).The Minister for Finance has provided a State guarantee in respect of borrowings received from the EIB and KfW. As a result of this State guarantee, SBCI products may contain an element of State aid (in the form of discounted loans) and must comply with EU law governing State aid.
State aid can occur whenever State resources are used to provide assistance that gives certain entities, engaged in economic activity, an advantage over others by virtue of benefiting from those State resources. Generally, State aid is prohibited by the EC Treaty. However, State aid may be given legally by using approved EU schemes for State aid or by getting EC approval.
De Minimis Aid exemption under Commission Regulation (EU) No 1407/2013 of 18 December 2013 ("De Minimis Regulations")
The European Commission has determined that State aid given to undertakings which comply with the De Minimis Regulations has a negligible impact on trade and competition. State aid which remains below a certain ceiling, depending on sector, and otherwise complies with the De Minimis Regulations (de minimis aid) is not subject to pre-clearance with the European Commission. The maximum amount of de minimis aid any single recipient can receive is €200,000 (gross grant equivalent) over a three year fiscal period. The total amount of de minimis aid given to a single recipient performing road freight transport for hire or reward cannot exceed €100,000 over a three year fiscal period. For loans, the amount of de minimis aid which is provided to a borrower (in the form of a discounted interest rate) is calculated into its "gross grant equivalent" (based on the discount prevailing at the time the aid is granted) 1. The de minimis aid is not equal to the total amount of the loan. Applicants for SBCI de minimis loans must be aware that such loans are provided to applicants subject to compliance with the De Minimis Regulations.
De minimis aid is cumulative. To ensure the relevant ceilings are not exceeded and the cumulative rules are complied with, an SME application must provide a declaration about other de minimis aid covered by the Regulation or by other de minimis regulations received during the fiscal/calendar year concerned and the previous two years. It should be noted that a false declaration by an SME, resulting in the de minimis threshold being exceeded, could later give rise to the aid being recovered with interest. De minimis aid can be in the form of a grant, equity investment, guarantee or interest rate discount on a loan. De minimis aid could have been received from any State Agency, Department or Local Authority.
1The rate used is as specified in the Communication from the Commission on the revision of the method for setting the reference and discount rates (O) C 14, 19.1.2008, p. 6)
Examples of sources of de minimis State aid include:
Enterprise Ireland funding (e.g. Job Expansion Fund; Market Research Grant)
Department of Jobs, Enterprise and Innovation – Credit Guarantee Scheme
An Bord Bia funding
Local Enterprise Offices (LEO)
Environmental Protection Agency (EPA)
SBCI Products offered under de minimis aid exemption
The SBCI Investment And Working Capital Loans and Refinance Of Exiting Banks loan will be offered under the de minimis aid exemption contained in the Regulation. In the event that de minimis aid is granted under this SBCI financing arrangement, the SBCI will confirm directly to the applicant the gross grant equivalent after drawdown of the funds.
Exclusions
Please note the following activities are excluded from SBCI loans offered under the de minimis exemption:
Finance of specific export operations, or finance contingent upon the use of domestic over imported products. In particular, it should not apply to financing the establishment and operation of a distribution network in other States, or current expenditure linked to the export activity.
Finance of pure real estate development activity;
Finance of activities constituting pure financial transactions (e.g. purchase of shares);
Loans to undertakings in difficulty;
Finance of activities forbidden by national or EU law;
Agriculture (see specific SBCI Agriculture Investment Loans product), aquaculture and fisheries loans.
Aid for the acquisition of road freight transport vehicles by undertakings performing road freight transport for hire or reward.
Please refer to Commission Regulation (EU) No 1407 2013 for comprehensive details on specific exclusions.
Agriculture Investment Loan Scheme (AILS) 2015
The Agriculture Investment Loans supported by the SBCI is subject to the provisions of the Agriculture Investment Loan Scheme 2015. This Scheme has been published by the SBCI in conjunction with the Department of Agriculture under Commission Regulation (EU) no 702/2014 of 25 June 2014, which declares that certain categories of aid in the agricultural sector are compatible with the internal market and permissible under this EU Regulation by means of a block exemption. The Agriculture Investment Loan Scheme operates within the State aid rules by virtue of this block exemption.
Details of this Scheme are provided here.
Full details of the Regulation can be found at Commission Regulation EU No 702 2014.
SBCI Agriculture Investment Loan
The first product supported by the SBCI under this Scheme is the Agriculture Investment Loan. This is governed by AILS 2015 however the SBCI product has its own specific parameters in addition to those contained in the Scheme. The key elements of the SBCI Agriculture Investment Loan product which differentiate it from the Scheme are as follows:
Loan amounts shall not exceed €5m
Loan amounts shall not exceed 1.5 times the eligible costs referred to in the Scheme
Loans may not be used for the acquisition of land.
Apart from the above noted differences all other rules within the Scheme apply. Some key elements of the Scheme are set out below such as eligible costs, exclusions to the Scheme and publication requirements. For full details please consult the AILS 2015 page.
An application for an Agriculture Investment Loan under this Scheme can only be considered if the application is received prior to work on the project or activity starting.
Eligible Costs under the Agriculture Investment Loan
When applying for an Agriculture Investment Loan, an SME will be required to provide a full list of the project costs upfront. For the purposes of calculating aid intensity and eligible costs under this Scheme, all figures used shall be taken before any deduction of tax or other charge. An SME must provide documentary evidence which shall be clear, specific and contemporary.
The aid shall cover the following eligible costs:
the construction, acquisition, including leasing, or improvement of immovable property;
the purchase or lease purchase of machinery and equipment up to the market value of the asset;
general costs linked to expenditure referred to in points (a) and (b), such as architect, engineer and consultation fees, fees relating to advice on environmental and economic sustainability, including feasibility studies; feasibility studies shall remain eligible expenditure even where, based on their results, no expenditure under in points (a) and (b) is incurred; and
acquisition or development of computer software and acquisitions of patents, licenses, copyrights, trademarks.
The following costs are not eligible:
costs, other than those referred to in paragraph (a) and (b) above, connected with leasing contracts, such as lessor's margin, interest refinancing costs, overheads and insurance charges;
working capital; and
VAT (except where it is non-recoverable under Irish law).
Exclusions under the Scheme
The following activities are excluded from the Agriculture Investment Loan:
Loans to support export related activities towards third countries or other EU Member States, namely aid directly linked to the quantities exported, to the establishment and operation of a distribution network or to the other current expenditure linked to export activity;
Loans contingent upon the use of domestic over imported goods;
Loans to support investments required to comply with EU standards in force.
Loans to an undertaking which is subject to an outstanding recovery order following a previous Commission Decision declaring an aid illegal and incompatible with the internal market;
Loans to undertakings in difficulty;
Loans to support the purchase of production rights, payment entitlements and annual plants;
Loans to support the planting of annual plants;
Loans to support drainage works; and
Loans to support the purchase of animals.
Publication and Information
As required under the Regulation, the information referred to below will be published on the Strategic Banking Corporation of Ireland's State Aid Website on each individual aid award where they exceed the following:
€60,000 for beneficiaries active in the primary agricultural production;
€500,000 for beneficiaries active in the sectors of the processing of agricultural products and the marketing of agricultural products.
Please note that the state aid amounts above represent the amount of aid that may be generated through the form of discounted interest rates on loans and does not represent the loan amount. Only the aid amount is required to be published and not the size of the loan. This will be monitored on a case by case basis and is not expected to arise in many situations.
Information to be published for aid awards exceeding the relevant thresholds
Information shall be published in a spread sheet data format, which allows data to be searched, extracted and easily published on the Internet, such as CSV or XML format. Access to the State aid website shall be allowed to any interested party without restrictions. No prior user registration shall be required to access the State aid website.
The following information on individual aid award shall be published:
Reference of the identification number of the aid;
Name of the beneficiary;
Type of enterprise (SME/large) at the date of granting the aid;
Region in which the beneficiary is located, at NUTS level II;
Sector of activity at NACE group level;
Aid element, expressed as full amount in national currency;
Aid instrument ‐ Interest rate subsidy
Date of granting the aid;
Objective of the aid – investment
Granting authority ‐ SBCI
SBCI Agriculture Cashflow Support Loan Scheme
Scheme Terms and Conditions
Eligibility
The Borrower must comply with the following:
It is a micro, small or medium-sized enterprise in accordance with the Commission Recommendation 2003/361/EC
It is at all times active in the primary agricultural sector in Ireland.
Is not an "undertaking in difficulty" (within the meaning of the Commission Regulation (EU) 651/2014)
Does not have a substantial focus on one or more Restricted Sectors listed in Commission Implementing Regulation (EU) No 964/2014
Is not delinquent or in default under any agreement with the Bank or another financial institution (save as may be agreed with the Bank at its entire discretion)
Is not established in a Non-Cooperative Jurisdiction (meaning a jurisdiction that does not cooperate with the European Union in relation to the application of internationally agreed tax standards)
Is established and operating in Ireland
Has not received loans under the SBCI Scheme of more than EUR 150,000 in aggregate per borrower or SME (i.e. per farm operation)
Is not at any time performing illegal activities according to applicable legislation in the country of Ireland or the borrower (including national, Union and international legislation, including the Charter of Fundamental Rights of the European Union and the European Convention on Human Rights and its Supplementary Protocols) is not bankrupt or being wound up or having its affairs administered by the courts;
In the last 5 years has not entered into an arrangement with creditors, in the context of being bankrupt or wound-up or having its affairs administered by the courts
Has not been convicted of an offense or subject to a ruling concerning professional conduct, fraud, corruption, involvement in a criminal organisation, money laundering or any other illegal activity where such illegal activity is detrimental to the European Union's financial interests
The Borrower must confirm to the bank that it satisfies one of the following conditions:
Is applying environmental and climate friendly production methods, as follows:

Is participating in an agri-environment schemes as part of Ireland's current or last Rural Development Programme (i.e. GLAS, BDGP, AEOS, REPS, Organic Farming Scheme or a locally-led EU agri-environmental scheme).

Is implementing quality schemes or projects aiming at promoting quality and value added, as follows:

is a certified member of a Bord Bia Quality Assurance Scheme; or
is a certified member of a Quality Assurance Scheme run by a co-operative, processor or producer representative body.

Is implementing co-operation projects, as follows:

is a member of a DAFM-registered Farm Partnership.

Is training in financial instruments and risk management tools, as follows:

has successfully completed or is participating in DAFM's Knowledge Transfer Programme or previous programmes such as BTAP and STAP (and specifically, the financial management elements of those programmes); or
has participated in financial training given by Teagasc (including the Cash Flow module included in recent farm walks), and can produce a certificate to this effect; or
has participated in financial training from another body (e.g. co-operative, processor, farming organisation, producer representative body or other providers of training) relating to the eligible agricultural sectors, and can produce a certificate or other evidence to this effect.
As at the date of the letter of sanction entered into by the Customer in relation to the Facility in question, it satisfies the eligibility criteria for the Scheme and that it undertakes to procure that it shall at all times comply with those eligibility criteria.
The loan received by the customer is exclusively for working capital purposes;
Details to be Published
The DAFM and SBCI will comply with the reporting requirements as set out in Commission Delegated Regulation (EU) 2016/1613 in respect of loans to livestock and dairy farmers, and with de minimis state aid reporting requirements in respect of loans to other farmers.
Data Protection
The rights of data subjects and how they may be exercised are laid down in the Data Protection Acts, 1988 and 2003. The Office of the Data Protection Commissioner publishes a guide to your rights as a data subject.
Publication of CAP Beneficiaries Data
In accordance with EU Regulation 1306/2013, the Department of Agriculture, Food and the Marine is obliged to ensure annual ex-post publication of all of the beneficiaries of CAP funding, both legal and non-legal persons.
Further information is available on the Department of Agriculture, Food and the Marine website: www.agriculture.gov.ie
State Aid
The state aid amount for a loan is arrived at by selecting the term of the loan in years (horizontal blue axis) and the value of the loan in Euro (vertical yellow axis) in the state aid matrix below. Where the term and/or loan amount(s) falls between two values the higher figure(s) should be selected. This is illustrated in the following example of a loan of €41,000 for 4.5 years:
Round €41,000 to nearest loan amount = €42,500
Round 4.5 years to nearest year = 5 years
Corresponding state aid for a loan of €42,500 over 5 years is €4,533.33
See the state aid matrix below for further details:
State Aid Matrix (indicative)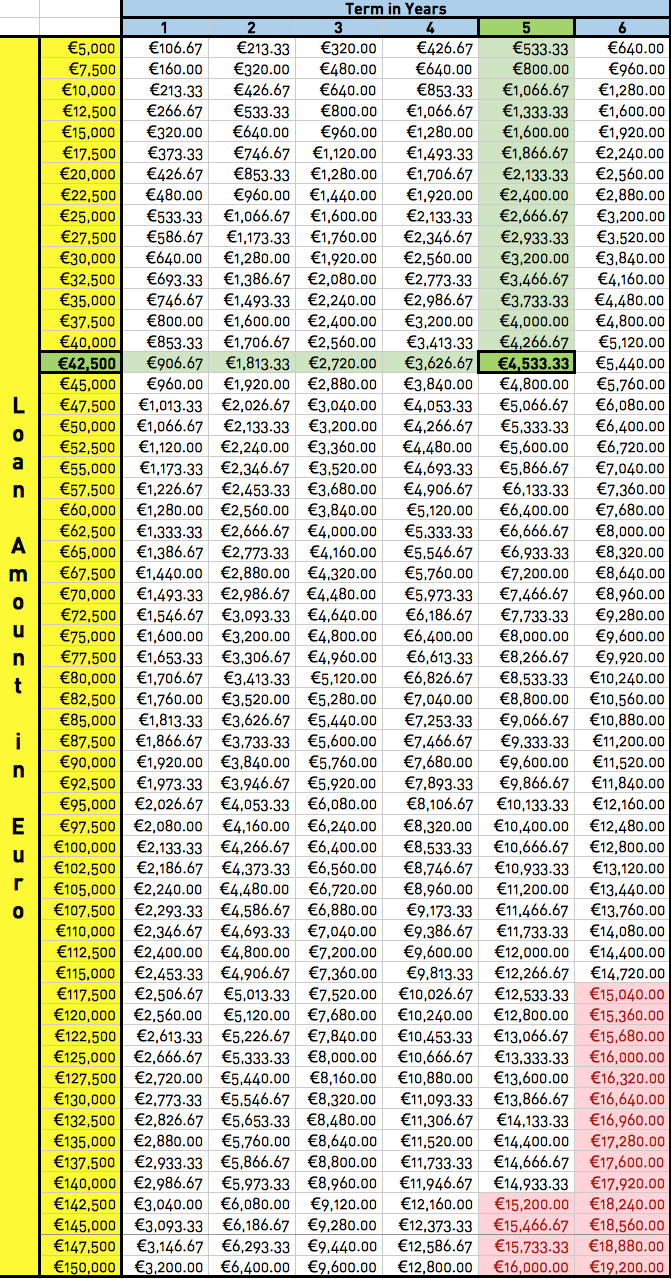 Source: SBCI.
Note: The state aid matrix provided is for indicative purposes only.