Low cost loans will be available this week through AIB, Bank of Ireland and Ulster Bank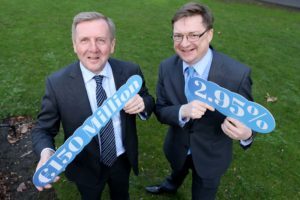 The minister for Agriculture, Food and the Marine, Michael Creed TD, pictured with Nick Ashmore, Chief Executive Officer of the SBCI

The Strategic Banking Corporation of Ireland (SBCI) has today confirmed that AIB, Bank of Ireland and Ulster Bank will distribute the SBCI's Agriculture Cashflow Support loans, making €150 million available to farmers throughout Ireland at a low-cost interest rate of 2.95%.
The Agriculture Cashflow Support loan scheme was announced in the Government's 2016 Budget and is being developed in conjunction with the Department of Agriculture, Food and the Marine. It aims to support farmers experiencing short-term financial pressure due to price and income volatility.
The loans will enable farmers to plan and budget more effectively by providing an attractive alternative to more expensive forms of credit such as merchant credit and bank overdraft facilities.
SBCI CEO Nick Ashmore said:
"We are delighted to have three major banks with nationwide reach on board as lenders for this scheme. Farmers will be able to apply for these loans this week through AIB, Bank of Ireland and Ulster Bank. These loans represent SBCI's first application of its newly secured COSME guarantee for risk sharing, with further risk sharing products in the pipeline for 2017."
The Minister for Agriculture Food and the Marine, Michael Creed TD said:
"The SBCI has demonstrated its commitment to the agriculture sector and has worked with my Department to get this product to the market in a timely manner. I welcome the participation of the main banks, which will ensure nation-wide coverage for the scheme. The fact that most farmers will have an existing relationship with the participating banks should facilitate the loan application process".
Loan features
Loans of up to a maximum of €150,000
Loan term of up to 6 years
Loans are unsecured
Optional interest-only repayments provided at the start of the loan
Interest rate of 2.95% for the term of the loan
Loans can be used for
Working capital requirements;
As a more sustainable alternative to short-term credit facilities;
As an alternative to merchant credit.
Further detail on this Scheme is available on the SBCI website at www.sbci.gov.ie and on participating institutions websites.