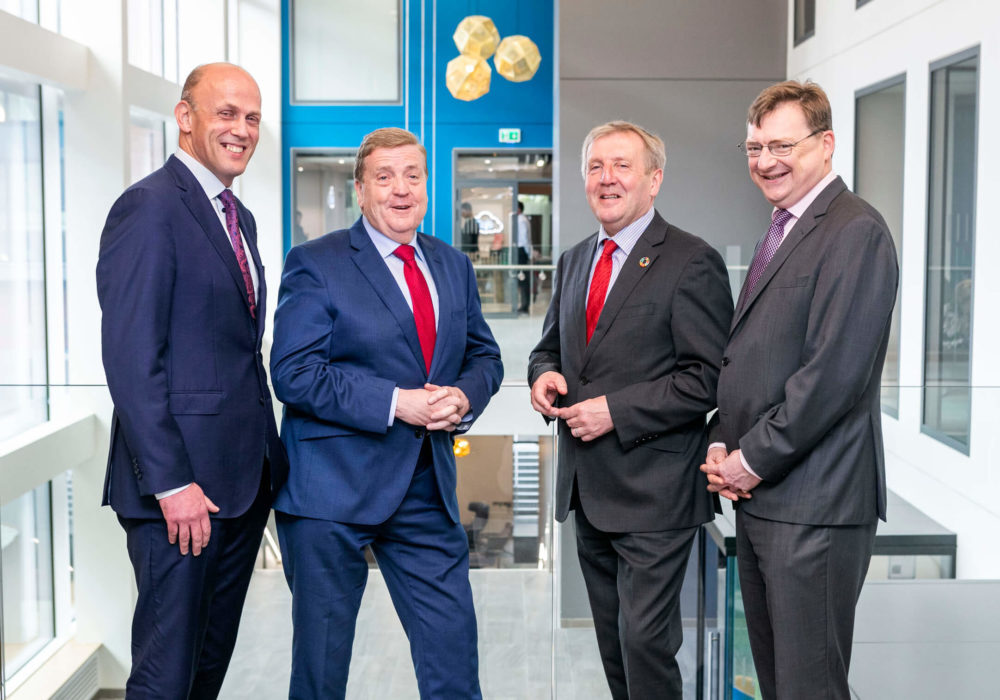 Future Growth Loan Scheme aims to support SME's and agriculture investments
The SBCI is delighted that Bank of Ireland confirmed its participation in the Government of Ireland's 'Future Growth Loan Scheme,' designed to support the development of SME's and Agri businesses. Bank of Ireland is now accepting applications for the scheme, which is open to businesses meeting SBCI eligibility.
The SBCI scheme funds capital expenditure and promotes business investment through low cost loans, with terms ranging from eight to ten years, and all loans secured with an 80% guarantee from the SBCI. As a participant institution, Bank of Ireland is offering low cost longer-term loan facilities through the SBCI, to aid businesses in their development through structural and market change.
Speaking about the Bank's SBCI fund, Michael Lauhoff, Director of Business Banking, Bank of Ireland said:
"Bank of Ireland has received a significant allocation from the SBCI Future Growth Loan Scheme, and our ambition is to support and partner with eligible customers in making these loans work for their businesses. We have already received numerous enquiries from SME's and agri businesses looking to fund investment and capital expenditure, and we are committed to enabling our customers to thrive, develop their business and remain on an upward trajectory.
"The scheme is designed to assist businesses looking to invest and grow profitability over time. Bank of Ireland's team of Business and Agriculture advisors are already meeting successful applicants, working closely with them to provide the necessary advice and guidance to assist with their funding options. Every business is different and faces its own challenges, but the nature of the SBCI scheme allows for an enterprise to consider long term financing options and fulfil their ambition in reaching future growth targets."
Minister for Finance and Public Expenditure and Reform Paschal Donohoe said:
"I am delighted that loans are now available to Irish small businesses under the Future Growth Loan Scheme through Bank of Ireland and I look forward to the other participating finance providers joining them in due course. The Government recognises the importance of indigenous SMEs to sustainable economic growth and employment and the need for SMEs to make long term investments to continue to succeed and grow into the future. Finance of more than 7 years is not currently available on the market. The Future Growth Loan Scheme aims to address this gap by providing loans with terms of 8 to 10 years to Irish SMEs. This Scheme will provide much needed long term finance for strategic investment in a post Brexit environment."
Minister for Agriculture, Food & the Marine Michael Creed said:
"I am delighted that the Future Growth Loan Scheme is now available for drawdown by applicants. I know that since the opening of the eligibility process that there has been considerable interest from the agri-food sector. As I've said before, this is a long-awaited source of finance for young and new entrant farmers, especially the cohort who do not have high levels of security. It will also serve smaller-scale farmers, who often do not have the leverage to negotiate for more favourable terms with their banking institution. Additionally, food companies have identified long-term investment finance of up to ten years as a critical need that is currently unavailable in Ireland. This partnership between the Government, EIF, SBCI and participating banks such as Bank of Ireland, have facilitated this innovative product. Its effects will be felt all along the food production chain from primary producer to processor level."
Minister for Business, Enterprise, and Innovation Heather Humphreys said:
"With Brexit on the horizon, investment in innovation and diversification has never been more important. The Future Growth Loan Scheme unlocks a large fund of affordable financing to support businesses in investing for the future. I am delighted that Bank of Ireland are now open for loan applications and I would like to take this opportunity to thank them for their commitment to supporting our SMEs."
Minister of State with special responsibility for Trade, Employment, Business, EU Digital Single Market and Data Protection Pat Breen said:
"I welcome the opening of applications for the Future Growth scheme with Bank of Ireland. I know the critical role that entrepreneurs and businesses play in every part of the country and the demand for longer term finance to invest for the future, including to respond to digitalisation of manufacturing and services. The Future Growth Loan Scheme ensures that businesses with growth ambition have access to appropriate finance that supports strategic long-term investment. The Future Growth Loan Scheme is another example of the Department of Enterprise, Trade and Employment's commitment to deliver vital relevant supports for businesses in Ireland".
SBCI Chief Executive Nick Ashmore said:
"I am delighted that Bank of Ireland has today announced that it is open for applications for the Future Growth Loan Scheme (FGLS). It signifies the continuing evolution of a relationship that commenced with the formation of the SBCI in 2014. The FGLS scheme is designed to drive the strategic, long-term, sustainable growth of Irish businesses, allowing them to keep pace with EU firms and compete effectively in the global economy, and I look forward to seeing the scheme deliver real impact for the SME funding market over the next three years."
The €300m FGLS is offered by the SBCI with the support of the Department of Business Enterprise and Innovation, the Department of Agriculture Food and the Marine, the European Investment Bank and the European Investment Fund. The Future Growth Loan Scheme benefits from a guarantee from the European Union under the European Fund for Strategic Investments (EFSI).
Andrew McDowell, European Investment Bank Vice President said:
"The European Investment Bank Group - as an EU institution - recognises Ireland's unique vulnerability to Brexit and is committed to supporting investment that help mitigate its possible consequences. Participation of the Bank of Ireland will extend the availability of the EIB Group support under the Future Growth Loan Scheme to farmers and other businesses across the country, supporting jobs and economic activity."
Loan amounts available under the FGLS vary between €100,000 (SME and Small Midcap) and €50,000 (Agri) to a maximum of €3m. SBCI criteria for loan eligibility include an SME's workforce not exceeding more than 250 people and annual turnover of no greater than €50 million. For applicants from the agri sector loans must be targeted at improvements in farm performance or sustainability as well as infrastructure upgrades, with the SBCI already in the process of confirming successful applications looking to avail of this new scheme.
Applications for the scheme can now be made to Bank of Ireland at this link www.bankofireland.com